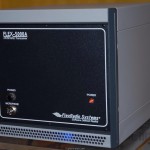 Above is a live view of the panadapter from my active copy of PowerSDR v2.8.0.x – a variant of PowerSDR written and maintained by KE9NS. In addition, the audio received from my Flex 5000a is being streamed live via this page.
The audio received from the Flex is sent through the "virtual audio cables" to a program called BuTT (Broadcast Using This Tool), which sends a live MP3 stream to a Shoutcast DNAS v2 server located on my corporate network. The system is configured to stream my transmit audio as well.
Please note that there is a ~10 second delay between the panadapter display and the audio you're hearing.
When I'm not in the shack, the rig will usually be tuned to 3755KHz LSB, where the ONTARS Net operates daily. As well, on most Sundays at 2200z, you'll hear me on the Sunday Evening CFARS Net.
If you are looking to listen to a specific frequency at a certain time to check propagation, or to do audio testing, please feel free to contact me and I'll do my best to QSY to the desired frequency. I can access PowerSDR from my tablet and smartphone via VNC.