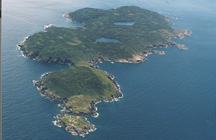 I am one of (currently) 8 operators planning to go to St. Paul Island, for the period of August 19-29, 2016. Details can be found on the website, and updates will be posted to the Facebook page. The prefix is CY9, and at the time of posting, is 62/340 on the Most Wanted DXCC list. It'll be my first DXPedition 🙂 It seems a great way to "get my feet wet" as St. Paul Island is Canadian territory, and I can drive to the take-off point.
We're looking for donations to cover the estimated $18K CDN helicopter costs 🙂 All those who donate, and who subsequently manage to contact us when the time comes, will be automatically QSL'd: no OQRS requests necessary.
I've also designed a cellular repeater solution that should get us 850MHz 3G cellular, and thus Internet, access while on the island, which will allow us to upload our logs as we go.
I'm VERY much looking forward to this trip. Stay tuned for updates!