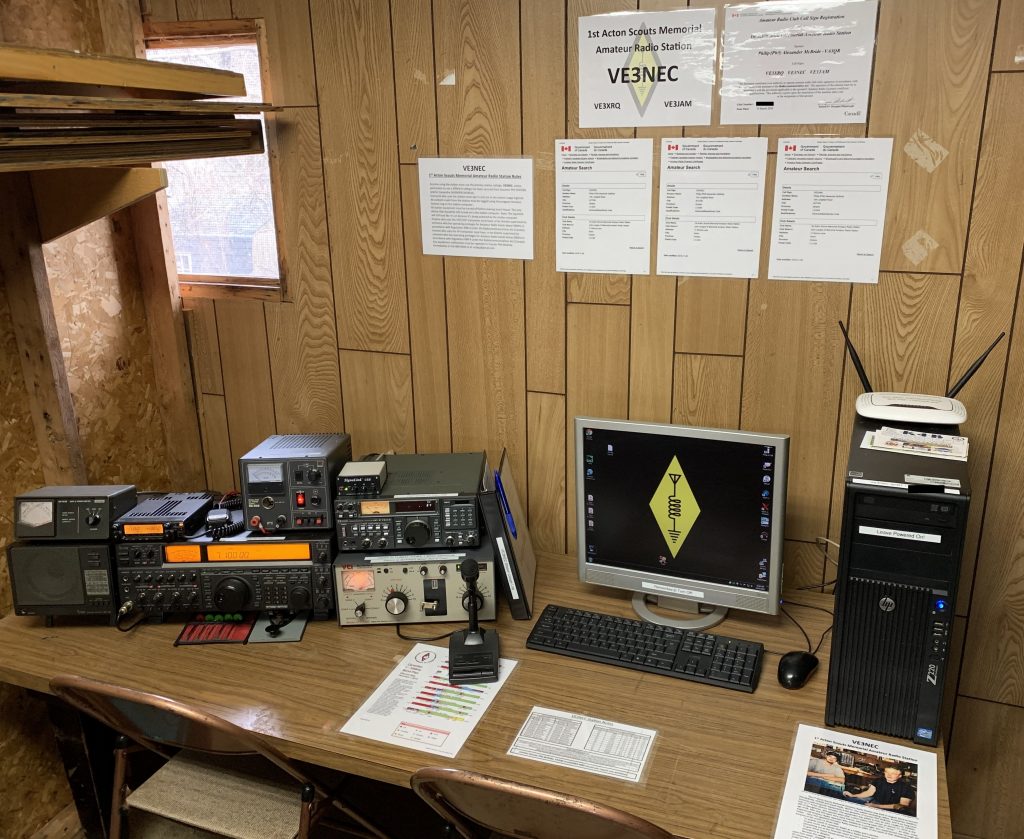 The 1st Acton Scouts Memorial Amateur Radio Station is located at Acton Scout House on School Lane in Acton, Ontario. It was built in August 2019 by Phil McBride, VA3QR and David Hyde, VE3YU. The station is Phil's property and is on long-term loan to the 1st Acton Scouting groups.
The equipment was willed to Phil by John Langtry III, VE3NEC (SK) of Georgetown, Ontario who passed away after a short battle with cancer on March 22, 2019 at the age of 68. John and Phil were very close friends, John having been Phil's "Elmer" – an older, more experienced Amateur Radio operator who shepherds a younger, less experienced one through the hobby – since Phil obtained his Amateur Radio license in 1994. In the spirit of that relationship, the purpose of the station is three-fold:
To expose youth to Amateur Radio as a hobby and a service,
To give youth who obtain their Amateur Radio license access to a fully-equipped station (something out of the financial reach of most youth), and
To give Acton Scout House access to Amateur Radio apparatus for use in the event of an emergency or disaster, as it is very possible that this location would be used as a shelter in such cases.
Because the callsign of an Amateur Radio operator in Canada is held by ISEDC for a year upon their death, VE3XRQ was the initial callsign assigned to the station on September 26, 2019. On December 5, 2019, the dormant callsign VE3JAM was offered and given to the station by the 219th Toronto Scouts. On March 22, 2020, VE3NEC was requested and assigned to the station, and is used as the primary callsign by the station and 1st Acton Scouts in John's memory.
The station consists of:
Icom IC-775DSP 200W 160-10m Transceiver with Vectronics HFT-1500 Antenna Tuner,
Icom IC-2350H 2m/70cm Transceiver, and
Icom IC-R7000 25-1400MHz Receiver.
Antennas consist of:
MFJ G5RV (HF),
Diamond X-50A Vertical (2m/70cm),
Diamond X-450 Discone (RX 25-1500MHz, TX on 6m, 2m, 70cm, and 23cm), and
Ubiquiti NanoStation M2 (WiFi).