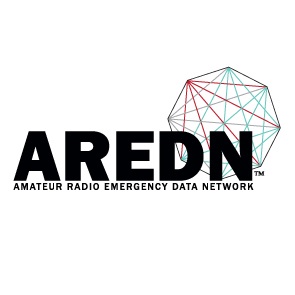 It's been a while since I've written anything – lots going on, both radio and non-radio related, and I don't have the time to write as much as I'd like to. So I thought I'd take a few minutes to talk more about Mesh Networking, the AREDN, and operating mobile.
It appears that the primary developers who were behind the Broadband Hamnet project have left and created the Amateur Radio Emergency Data Network project, centring their firmware efforts on Ubiquiti Networks' wireless equipment and moving away from the legacy Linksys/Cisco gear.
There are definite advantages to Ubiquiti over Linksys:
The Linksys WRT54G is a legacy model and has been out of production for a few years now. The only units available are used, and the supply is running short.
Ubiquiti equipment that can support the AREDN firmware on their 2.4GHz band, 900MHz, 3.45GHz and 5.8GHz access points, giving us 3 more bands.
The AREDN firmware, when installed on Ubiquiti access points, 

gives us access to Amateur Primary spectrum

, which means clear channels away from the ISM users:

The 900MHz band is Amateur Secondary and we have to share with everyone else.
There are 2 Amateur Primary channels on 2.4GHz,
There are 24 Amateur Primary channels on 3.45GHz, and
There are 7 Amateur Primary channels on 5.8GHz.

Linksys equipment requires you to run high-cost, low-loss microwave coax to antennas. Ubiquiti gear is fully integrated, and mounts outside on your tower or mast, and just requires a CAT5 cable run for power and network connectivity.
In my area, there is a group in the western part of the Greater Toronto Area that have created a Mesh network based on the new AREDN firmware. This network has 4 backbone sites: Brampton, Oakville and 2 sites in Mississauga. The network also reaches out to Hamilton and Fonthill (Niagara), Ontario, all via 2.4GHz spectrum in the Amateur Primary band. My link is to the site in Brampton using a Ubiquiti AirGrid M2-20, and then I've NAT'd it into my home/corporate network. I also built an Asterisk/FreePBX VoIP phone system on a Raspberry Pi 2 B, and we're currently testing it out. I have a Grandstream GXP2130 VoIP handset on my desk that interfaces with the phone system.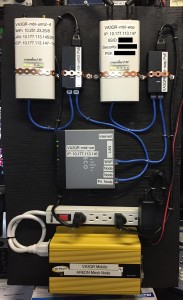 Here's the fun part 🙂 I built a Mobile Mesh Node. It consists of 2 Ubiquiti Rocket M2 units – one for the AREDN node, and the other to act as a local wireless access point, a Cisco SG200-08 switch, and a GoPower 150W pure sine wave inverter (I run HF mobile and modified sine wave inverters basically make that impossible). For node antennas, I'm running 2 RadioLabs WiMag 8 magnet mounts.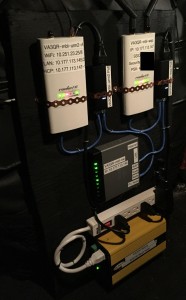 The Cisco switch is configured using the AREDN VLAN scheme. Since most Ubiquiti hardware only has one Ethernet jack, they rely on VLANs to pass specific traffic. VLAN 1 is for WAN traffic, VLAN 2 is for intra-node OLSR (routing) traffic, and VLAN 10 is for LAN devices and such. I've setup the switch to allow for the use of 2 other nodes – for example, I could use a couple of highly directional 900MHz radios to create a long-distance bridge to my truck, and then my node becomes an intra-mesh gateway. I've also set it up to allow me to "inject" public Internet access into whatever Mesh network I'm on at the time – this would allow me to gate traffic from the Mesh to the rest of the world, such as e-mail or telephony traffic.
I also bought a Linksys/Cisco WIP310 WiFi SIP handset. This unit isn't made any more, but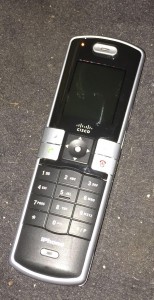 I'm trying to configure it to act as an extension on our FreePBX phone system – basically, to make it a mobile phone on the Mesh when I'm in range of another node. It accesses the network via WiFi and charges off of a MicroUSB jack, so it makes an ideas phone for a mobile Mesh node, but the setup portal is really picky. Still working on this part. HSMM has come a long way since Amateurs started playing around with cast-off Aironet access points 15 years ago.
The EmComm applications are staggering. Picture this scenario: A disaster has cut off a municipality from the Internet and/or its private network links to the EMO/Province. What if we, as Amateurs, could create a network "bridge" between the 2 network using an established Mesh? Yes, there are obvious security considerations, but in the event of a full-on disaster, those considerations can be dealt with. It's a fascinating change in the way we think of disaster communications infrastructure. This equipment is relatively inexpensive (compared to traditional Amateur Radio apparatus), draws little power (max. 24VDC, 1A Passive PoE, and my mobile node draws 1.2A at 12VDC total), and provides bandwidth into the 10's of Megabits/second, which dwarfs all other modes available to us. Rather than scrawling Radiograms or IMS-213 messages, we could sit back and maintain the network link while trained staff pass traffic using their own equipment.
And that's just one possible scenario.
I know, I know, "that's not Ham Radio – that's I.T." But it IS Ham Radio. As long as it's an RF application being made use of in our spectrum, as far as I'm concerned, it's Ham Radio. And for those of us (and there are a lot of us) with a professional background in I.T., specifically TCP/IP-based networking, it's awesome to play with 🙂
vy 73 de VA3QR