You'll have to forgive me, but this article is going to be a little more verbose than the others I've posted – Blogger's Privilege 😉
The remaining members of the Atlantic Cove team are arriving by boat early this afternoon with the remainder of the equipment for loading and transport home. I'm waiting for them so I can load the generators and gas cans I bought locally, and head to Edmunston, New Brunswick for tonight, then back home for Tuesday night. As I post this article, I've finished uploading the final ADIF to ClubLog.
Going on a DXPedition has been a "bucket list" item for me for a good long time. Circumstances brought me to the attention of Randy Rowe, N0TG early last year and I was fortunate enough to be made a member of what was a wonderful adventure and a fruitful endeavour – we will easily pass the 60,000 QSO mark when I post the logs tonight.
If you would indulge, I'm going to put on my patriotic hat for a few paragraphs.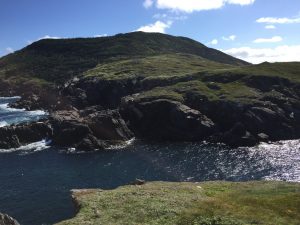 As you know if you've been following my journey, I was the only Canadian in the group. St. Paul Island is part of my country, and I felt privileged and honoured to be one of the few Canadians who has, or ever will see, this gorgeous part of our territory.
Additionally, this is the first time I've been able to properly see the eastern part of my country My drive took me right along the Trans Canada Highway through lower Quebec, New Brunswick and into Nova Scotia proper before I got onto Cape Breton Island. The scenery I experienced on my trip here will be forever imprinted in my memory.
In Cape Breton, the scenery is especially beautiful – rolling mountains covered with trees for as far as the eye can see, beautiful beaches all along the coast, a view of the Atlantic Ocean that is unparalleled to anything I've see along the eastern coast of North America, and the people who live here are among the nicest, kindest and most generous that I've ever met. I needed a place to stay on day 1 here when I decided to transfer to the North East Point, and the boat operator, Paul Fitzgerald, took me to his house, gave me a couple of beers and put me up in his guest room. Yesterday when I went looking for coffee I went to The Markland Resort (where we stayed on our first night here) and Kim gave me 2 coffees and a basket full of muffins and refused to take my money. Last night, I stayed in a little cottage owned by an elderly couple in White Point (about 20 minutes south of Dingwall, off the Cabot Trail) and they made me the first hot meal I've had since going to the island.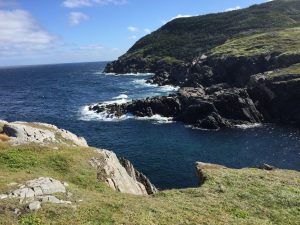 The beauty and hospitality I've experienced along every leg of my journey thus far makes me even more proud to call myself a Canadian. I sincerely hope to be able to build a house on Cape Breton one day – nothing fancy, an 1800 sq. foot bungalow, with 5 acres in the back for an antenna farm on a high point for good take off 😉
I would like to thank Randy, N0TG and Murray, WA4DAN for putting this event together from the very beginning. Especially, I'd like to thank Randy for finding me through a mutual connection and inviting me on what has been one of the most memorable events of my life thus far. I'd like to thank Pat, N2IEN, Ray, W2RE, Lee, WW2DX and Will, AA4NC for making me a part of their team at the last minute when I switched from Atlantic to the North East Point. I'd like to thank Ray and Will for all of their operating, and their guidance on when and where to operate. I would especially like to thank Pat for the use of his helicopter, without which, there would've been no way to operate from the North East Point. I would like to thank Barry Smith, Pat's aviation mechanic, for his tireless efforts managing logistics from the mainland and keeping us all safe. I would also like to thank the Amateur Radio Service Centre (ISEDC), Fisheries and Oceans Canada, and the Canada Border Services Agency for their help and service in getting all the necessary operating permits together, and for expediting the travel of equipment and personnel from the United States. I'd like to thank Derek Faulconer of CRE Insurance Services for helping us secure the required liability insurance. Most importantly, I'd like to thank my wife, Cassandra McBride, VA3MEW, for her patience, support and understanding over the last 15 or 16 months while we planned and executed this expedition.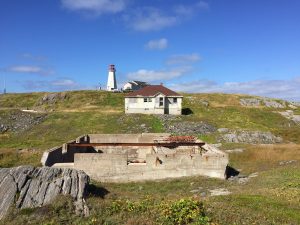 Finally, I would like to thank you, my readers, who have e-mailed, Facebooked, Tweeted and otherwise digitally sent your warm messages of support and thanks. It made the experience all the more enjoyable knowing that we had your support, and further cemented in my mind my own personal belief that the Amateur Radio community as a whole is made up primarily of decent, kind and well meaning people.
I will be writing an article for The Canadian Amateur, the publication of the Radio Amateurs of Canada (RAC), at some point in the near future, and will share that article here after it's been published in TCA. My next journey will be in a couple of weeks to Heart's Content, Newfoundland, for RAC's Annual General Meeting, which will also commemorate the 150th anniversary of the laying of the first permanent cable between North America and Europe.
For now, with my thanks and best wishes, a final 73 from the east coast of Canada from VA3QR/VE1.