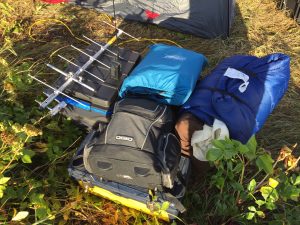 I left St. Paul this morning and am typing this from the back of my truck in the baseball field we've been using as an airfield. We are getting all the gear and people off of the North East Point first. Will, AA4NC will operate from there until the last possible moment.
After that's done, all but 2 of the Atlantic Cove team will leave the island and head to Sydney, NS to wait for their flight home. The 2 remaining members will operate all day and perhaps into the evening, and then load the boat, which will arrive at sunrise tomorrow. Once the boat arrives tomorrow afternoon, I'll grab the rest of the team gear that I brought with me and start making my way home.
I will post one final entry when I do the final ClubLog upload, along with a few pictures, hopefully tomorrow night when I make my first stop on my way back to Acton, Ontario.
I would also like to thank all of you for the wonderful and positive responses I've gotten over the past several days on my writings, and on our operations. This was my first ever DXPedition, and I don't think I could've asked for a better experience.
Until tomorrow, vy 73 de VA3QR/VE1.