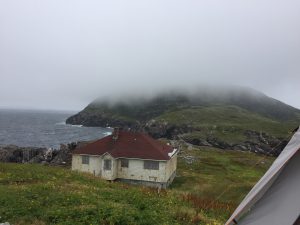 Well, it's another day here on St. Paul Island, next to the lighthouse, and I think I've solved the last logging issue (or at least it's the last one I'm able to fix). One of the laptops used to get on the air at the NE point when we first landed had a time zone issue. It looks like in trying to fix the issue, someone backdated most of the contacts by 24 hours. After a good night's sleep, I was able to stare at the ADIF file and figure out where the break took place and modify the logs so that they made sense. I then merged everything together with our current logs and the Atlantic Cove site and posted the logs up to August 21 at 1426z to ClubLog. If there are still issues, I'm sorry, but I don't think there's much else I can do at this point, but the feedback I've gotten since posting the update to QRZ and Facebook earlier today was that most of the issues have been satisfactorily resolved.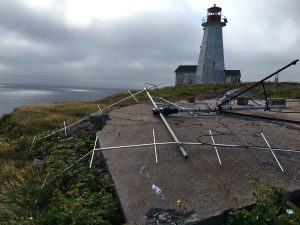 Our next problem began late last night. The winds kicked up to something around 40-45kph gusting to 50-55kph and caused some damage, including WW2DX's EME array. We're afraid it's completely beyond repair. The winds have been high enough today that Pat, N2IEN isn't flying and we spent some of the morning putting supplies in one of the houses here in case we had to take shelter. We don't think that's going to be necessary, but it's good to be prepared. Also, we only have about 20L of fuel with us here and the rest is at the Atlantic Cove site. Pat has been ferrying gas, water and logs on daily runs, but it looks like we won't be able to make another run until at least tomorrow afternoon, more realistically Wednesday. That means no more log dumps until then too (sorry guys).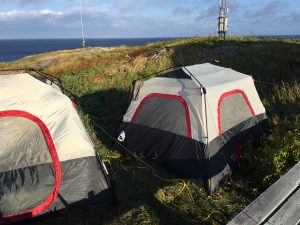 We've gone to 3 stations, and might go down to 2 stations depending on fuel usage. Most of our generators are Honda EU2000i's and are quite fuel efficient, but there is also a 220V 4kW generator here as well. We'll probably run that until it's dry, then stick with 2 stations with the fuel we have until we can resupply in a day or two.
This being my first ever DXPedition, I'd been looking forward to being on the other side of a pile up, and I haven't been disappointed. I worked 40m last night from sundown for a few hours and it got so bad, I couldn't even spread out the calling stations over enough bandwidth to make any stations out. The conditions from 160-17m have been awesome. 15-6m, not so much, but we're listening and trying every once in a while because we know you all want contacts on those bands. As well, the LEO Satellite gear looks like it should still work even after one of the tripods got knocked over yesterday, so once the weather dies down a bit, we'll give the birds a few calls to give you all FN97.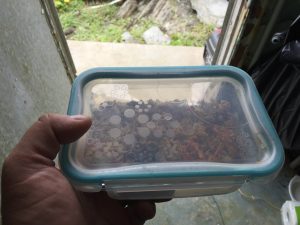 For now, I'm going to finish my dehydrated lunch and hit 20m as hard as I can. vy 73 for now de VA3QR/CY9.