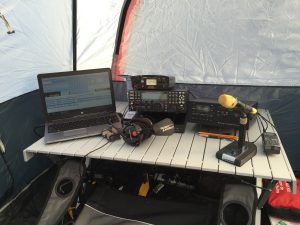 Good afternoon from sunny and warm St. Paul Island! The wind gusts are dying down and by tomorrow should be under 30kph, but as it is, they're manageable now and we're operating normally. Pat, N2IEN is out getting us some more gas, and bringing some stuff from the other site (like a spare tent, just in case). As well, a local EMT who loaned us a defibrillator, had offered to come over to both sites and do a checkup of all the DXPedition participants in exchange for a helicopter ride. Pat was only more than happy to oblige 🙂
WW2DX has been going crazy on 6m all day and is still going. If you're looking for 6m, keep an ear open. Now that the winds have died down, we're going to break out the LEO antennas and test the rotators that were blown over  a couple of days ago. If everything works, we should be ready to get some satellite contacts by this evening. If/when everything checks out, I'll post an update to my Twitter account.
We received logs from Atlantic Cove today, so I've put together an ADIF file that encompasses almost everything up to 24 Aug 1451z and am uploading to ClubLog. We'll try to get the logs out a little more frequently if possible, but this should make most people happy! 🙂
For those asking for RTTY – we blew the front ends on 2 K3S's, which limits the stations we have capable of RTTY. I have a SignaLink in my field kit, and Pat has a digital interface of some kind, so I'm going to try to rig my station for RTTY and see if I can spend some more time on that mode.
The low bands sounded like crap last night. I managed to pull about 60-70 QSOs from Europe on 80m starting at around 0400z, but the noise from the G1 storm was at S7 and the crashes went to S9+5 and I eventually went deaf. We're going to try again tonight.
10m and 12m opened up today and we're getting as many contacts on those bands as we can. Once I'm done this post and the log dump, I'm going to hop on 15m and sit there for a while.
Gotta get back to work! vy 73 de VA3QR/CY9.