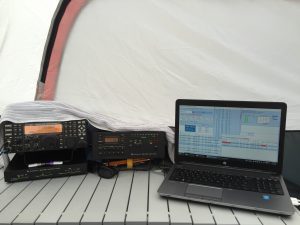 Well the winds came back and paid us a visit – starting last night (local time), they were kicking up to about 80km/h. Thankfully, we've sustained no damage. The tents are okay and the antennas are still standing. Then the rain started around 9AM this morning, local time (1200z) so we've been trying to keep the equipment dry 🙂
Band conditions haven't been so great either. Will, AA4NC woke up at 0915z today to work RTTY on 30m and got no takers, so he moved to CW. He did a pretty good run. Ray, W2RE did a couple of runs on 17m and 20m, but overall, the band conditions aren't as good as they've been. We're expecting things to open up around 7PM local (2200z) and will have all 4 stations going. We're getting down to our last couple of operating days and want to get as many QSOs as possible.
Pat made it back from the mainland this morning, just before a fog system moved over us, so we haven't been able to get logs from Atlantic Cove. Hopefully we'll find a window this evening, but if not, we'll push new logs out tomorrow when the weather is supposed to be sunny, clear and calm.
Stay tuned for more! vy 7e de VA3QR/CY9.