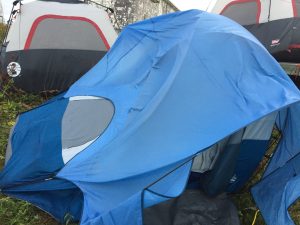 Isn't it great when you wake up to something hitting you in the head? At about 5:30AM, one of my tent poles snapped and the whole thing came down under the sustained 40kph winds coming from the west. As well, Lee, WW2DX lost his tent, as well as his operating table. He managed to catch his amp and radio before they hit the ground. Luckily, we had 2 spare tents, so Lee is setup inside one of the building, and I set myself up on the opposite side of the helipad we're using as a tent base, using it as a bit of a wind break. The forecast has the winds dying down starting this afternoon, then the rest of the week looks great. I've attached a couple of videos to show you what we've been dealing with. In the videos, it's sunny out. 10 minutes later while me and Ray, W2RE were moving the 6m beam, a cloud passed us and soaked us. It didn't rain, it didn't pass over us, it passed THROUGH us. That's what you get out here in the North Atlantic.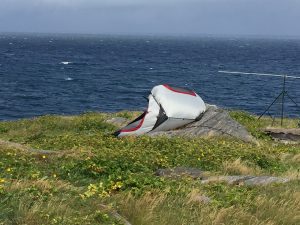 Pat, N2IEN made a bee-line for Atlantic Cove to get much needed fuel for the generators and was almost unable to make it back due to a fast moving fog system. But we're all gassed up now. We've put 2 stations on the air, we're getting the 3rd setup in Lee's tent now, and if things hold up, we'll setup the 4th today or tomorrow. That's in addition to the 4 running in Atlantic Cove. As well, once the weather clears up, Pat will be able to do a log-run to Atlantic Cove and I'll do another dump to ClubLog. As well, to answer those who've been asking, we're going to try to run on the low bands overnight from the North East Point. It's been impossible due to weather and fuel concerns at this point, but we're hoping to get a couple of operators on 80m and 160m starting around 24 Aug 0400z. There might even be some RTTY – stay tuned.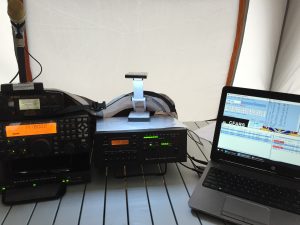 For now, I need to get some dry clothes and make sure everything stayed dry during that cloud pass. Down below are a couple of videos I took. I'm also going to push them to my Twitter Feed for those following me. Hope to hear you down the log. vy 73 de VA3QR/CY9C.